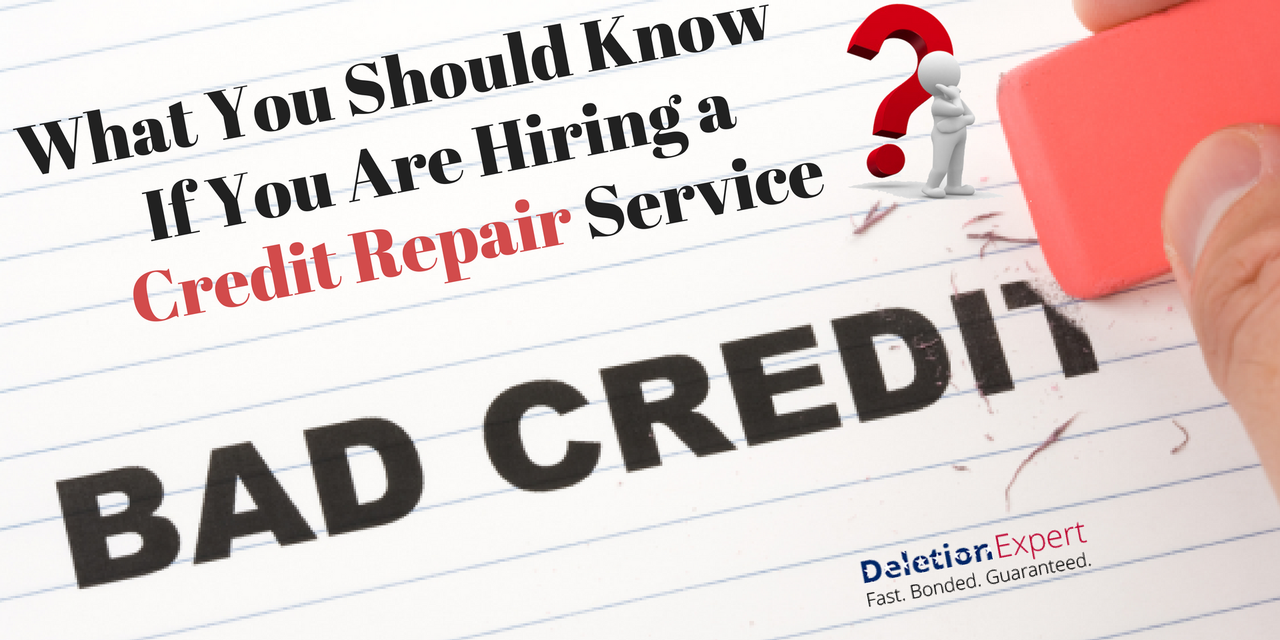 Just one imperfection on your credit report can have an undesirable influence on your interest, taxes, or loan authorizations. Being acquainted with your debt to credit ratio, accounts, and payment history can help you get ready to obtain new credit, and for this, you may need to work with a credit repair service.
As a result of the numerous corporations that use your credit report to decide whether to do business with you and where to set your interest rates, nowadays you can't get along with a bad credit report. This is a good reason to have your credit report examined by a credit repair company,  to know your credit history and get as many damaging items as possible removed from it,  before making an important purchase
 If you find yourself in tough financial conditions or dealing with uncontrolled spending,  a common solution is removing negative items from a credit report, using a credit repair company which could be very helpful, and you don't have to be embarrassed by it—more than 60 million Americans are in a similar position.
This is why you should consider the assistance a credit repair service can give you. A credit repair company will work to remove negative items from your credit report to get your credit history cleaned up.
1-

How a Credit Repair Service Works

When Removing Items from a Credit Report:
We are talking about professionals, who are acquainted with the logistics of every part of the process of improving your credit score. The will evaluate your credit report and history to see what is affecting your credit score to dispute anything that disturbs it with the credit bureaus involved.
One method to fix it is to write a letter to the credit bureaus concerning every questionable item and requesting verification. If the inquiry or incident can't be absolutely proven, then by law they have thirty days to remove it from your report. Make certain you meticulously study every element of each score for accuracy, like the credit limit, payment history, current balance, etc.
 It's a lot of work to remove items from your credit history, by yourself which is the reason why most people use a credit repair company such as DeletionExpert.com to remove questionable items from a credit report.
 If there are technical glitches in the process of improving your credit score, which is actually very common, a credit repair service knows the top strategies to resolve them fast. Also, the credit repair company can offer you helpful tools like identity theft protection to help guard and improve your credit score.
2- Know Your Rights:
 Nobody can guarantee the removal of undesirable data from your credit report if the data is accurate. Any credit repair company who tells you they can definitely improve your credit score without even looking at your data should be avoided.
 An important thing you should consider is that under the law, credit repair companies cannot oblige or demand payments before they actually begin to take action in order to improve your credit score. Which is why at DeletionExpert.com you can read reviews by consumers and clients who found success with their credit repair service. You want to see verification that after working with a credit repair company, the clients were able to improve their financial status.
By law, you are allowed to see your credit report with no cost to you if an enterprise takes "adverse stroke" against you by somehow negating your request for indemnity, credit, or employment. All of the national credit-reporting corporations or credit bureaus such as Equifax, Experian, and TransUnion are compelled to make a free copy of your credit report available once a year if you request it.
3- There are limits for what you can do:
Contrary to what most people think, credit repair is not done exclusively by a credit repair company. There is nothing you can't do for yourself when it comes to a credit repair service. Debt validation, paying for deletion, credit report disputes, or goodwill letters are some of the techniques you can apply for removing items from your credit report.
 However, it's important to understand that there are boundaries to what you can do when it comes to removing an item from your credit report on your own. If you have adverse data on your report that is correct, it will persist there for seven years. The main drawback of fixing your own credit is the sheer amount of work and attention to detail that you have to put into it.
4- What

Credit Sweep

is about:
 The idea behind using a credit sweep by a credit repair service is to force credit bureaus to remove negative items from your credit report using a method specially developed to speed up the process.
 All negative items such as bankruptcies, collections, public records, inquiries, judgments, and others force the amount you pay for credit card interest, mortgages, loans and everything else to be much higher. These items can be checked quickly with the use of a credit sweep process.
 

Credit Sweep is a program used by the credit repair company

DeletionExpert.com

and is

especially useful when you have been a victim of identity theft. They work with the

Fair Credit Reporting Act (FCRA), which is legislation by the U.S Government that promotes the fairness, accuracy, and privacy of information contained in the personal files of reporting agencies.
5-

Removing Items From Your Credit Report

and

Repairing Bad Credit Takes Time:
There is no accurate amount of time for how long it takes removing items from your credit report. The time frame involved varies from person to person because it's determined by the information in a credit report and how the credit repair process is managed.
Using a credit repair company's program will always be easier and faster than doing it by yourself. DeletionExpert.com is one of the best options for a credit repair service if you want to remove items from your credit report in less time and with no effort.
Consider Changing How You Use Your Personal Credit:
You must adopt habits that will keep good credit if you want your repaired credit status to last. You should update your payment history, showing that you can remunerate your debts punctually and improving your existing balance ratio by paying down your liability.
For this, make your payments on time and in full to increase the confidence creditors and lenders have in you, without submitting applications for new credit cards or switching jobs.
Just by changing how you use your personal credit, you will see important enhancements to your credit score over time.
This article was written for Grand Teton Professionals for Deletion Expert. For Credit Repair Solutions and Support, please CONTACT US at 203-518-4923 or EMAIL US at Support@DeletionExpert.com. For Media Relations, pleaseContact: Misty.Burrell@GrandTetonProfessionals.com.
Keywords: credit repair service, credit repair company, removing items from credit report, credit sweep.