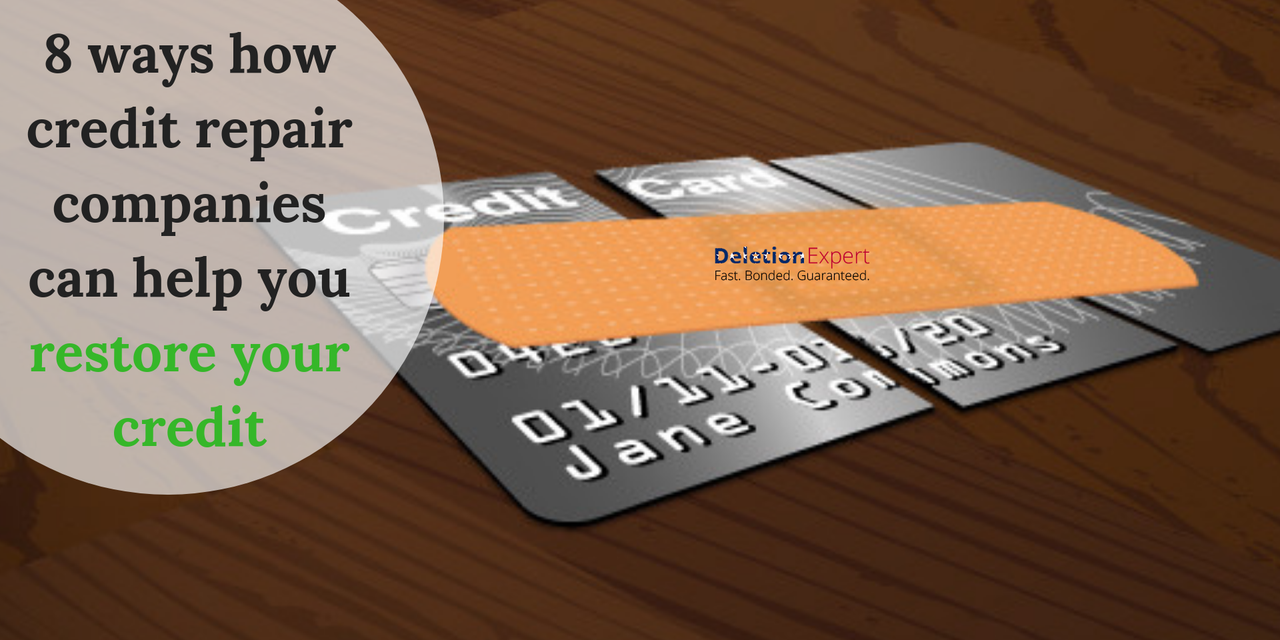 Poor credit always comes back to haunt you, unless you get it fixed by some authentic credit repair companies. A disturbing history of late payments or unpaid debts inhibits you to buy a home or pay your rent. Bad credit might signal higher bills because the bill providers can charge you more if you have a poor credit. Thus to avoid the situation, people are hiring different credit repair companies to have attractive credit scores.
Deciding to take credit repair services depends on the number of negative items you have on your credit report. Taking the services of some credit repair companies can be significantly easier than successfully disputing the items on your own. If you're willing to repair your credit yourself, you have an option of filing the dispute on credit bureaus' websites. However, if it doesn't seem effective, you can even go for drafting a dispute letter on your own. So what does a credit repair company do that most people cannot? Here's a look at the efforts of credit repair companies to enhance the creditworthiness in case of disturbing scores.
NO.1: Detai

led Credit Analysis by Credit Repair Companies:
When a credit repair company starts the deal with you, their team immediately pulls your credit report from all three credit bureaus (Equifax, Experian, and TransUnion). The expert team assesses your credit reports in sharp detail. It seeks to identify potential mistakes and errors that are disturbing the overall position of your credit. The process can take a few days to complete, as the legitimate credit repair companies cautiously look for mistakes in the credit history, duplicate accounts and expired negative items that should no longer appear.
NO.2:  Putting in

Knowledge

into the Process:
An adequate provision of training and good quality specialized knowledge is a key to starting every business. The credit repair companies hold the same belief. They have the staff members highly trained and well-informed. The credit repair requires time and dedication that most consumers don't have. People suffering from poor credit are already having many other significant picks in their life. So they find it more convenient to hire a credit repair company instead of taking out a portion of their own time.
NO.3: Systematic Dispute:
A credit repair company starts the deletion process by giving a thorough reading to credit reports and discovering the negative items. Thus, it is a systematically designed process with adequate attention given to every step. The experts then get to work at disputing and removing the negative marks. This dispute eventually causes a constructive increase to the credit score. A credit repair company will:
NO.4: Doing Beyond Repair of Credit:
A fascinating aspect of the credit repair companies is their vast communication with different financially-associated businesses. These include mortgage brokers, real estate agents, and loan officers. So a credit repair company does more than merely repairing the credit. Their widespread networking and experience in their field assist clients to find some reputable sources for future needs, such as buying a home or getting a loan for a car once their credit is improved.
NO.5: Putting in More Experience:
By observing different patterns of credit, these experts can give the client a superior credit repair service. A team of credit repair experts along with their colleagues produce multiple opinions and suggestions while working on improving your credit, to achieve the best results. This is basically why the companies do a better job and why an individual cannot do it by himself.
NO.6:

Professional Advice:
Having their core expertise in the financial and credit matters, the credit repair experts can give the best financial advice. The professionals working on delivering credit repair services have better financial exposure than an ordinary individual or business owner. So such experts can show you different financial sides of the business that a common man might not consider.
In the days of widespread fraud and cheating, identity theft has become very common. If somebody opens illegal accounts in your name, you're advised to seek some reliable credit repair companies immediately. These companies can clear your credit reports within days or weeks with their fast credit repair service feature. This way, your credit is restored, and you are good to have a good credit afterward.
NO.7:

Negotiate with the Creditors:
The credit repair companies have strong connections with the well-known creditors and financial institutions. They can thus get you some attractive low-interest loans that might suit you the best. Looking for reasonable lenders is something a common man cannot possibly do. So the credit repairing companies negotiate about the interest rates offered by the creditors and get you in contact with some well-known creditors.
NO.8: Lawful Activities:
If a common man tries to repair his credit himself, he might not be aware of the hardcore laws and legal provisions from the government regarding the repair of credit. To avoid any fuss or illegal activity, you may consider opting services from a credit repair company. They are fully aware of all the legal provisions and considerations regarding the credit repair business.
YOU CAN DO WHAT CREDIT REPAIR COMPANIES DO
Hence, all the facts and considerations brought to light in this article conclude that a poor credit victim can somehow do what credit repair companies do. All that credit repair needs is time and dedication that most people fail to offer because of their engagements with many other things in life. However, let's make one thing clear, a credit repair company MAY or MAY NOT increase your credit scores. It's good to seek the services from a credit repair company, but eventually, time heals every credit error. So it's your decision based on your circumstances that whether you go for a DIY removal of negative items or hire a credit repair company.
This article was written for Grand Teton Professionals for Deletion Expert. For Credit Repair Solutions and Support, please CONTACT US at 203-518-4923 or EMAIL US at Support@DeletionExpert.com. For Media Relations, please Contact :Misty.Burrell@GrandTetonProfessionals.com.
Keywords:   Fast credit repair, credit repair services, credit repair companies